Demodays 2012
category: parties
styx: las has been part of the demoscene since the beginning - so he's can't visit every party anymore because of health reasons. Long travel distances at his age isn't without risk.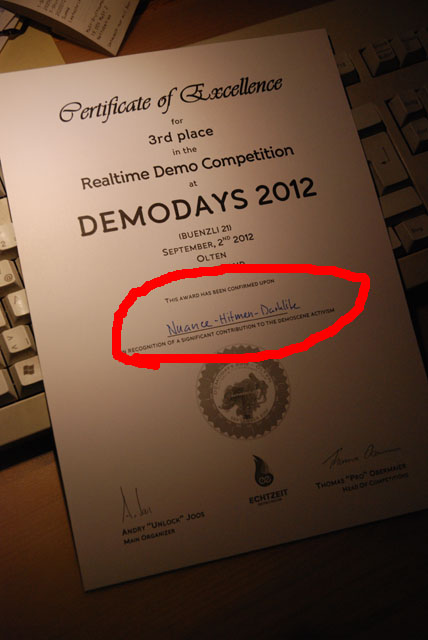 OLD ELITE GROUPS TRYING TO STEAL THIRD PLACE FROM DEMOSCENE NEWCOMER!
8-) I've already printed you the correct one. That's what happens if I start filling the names to the diplomas before the voting deadline is over ;-)
Und der alte Hase hockt derweil im altLAScontainer
Hahaha, send it to the legitimate owners, Styx! 8-P
Demodays OHP demos of year 2011 and 2012 are not on pouet. I see, that there is no selection for "OHP demo" when I want upload a prod. Are the OHPs not welcome anymore on pouet? (2011 ones are available on youtube, 2012 not yet). I think it's funny to find and watch them again after some time... ?
The original recordings of the 2011 OHP compo are lost. There are only the crowd recordings on youtube, on the original high quality videos. If there are recordings of 2012's OHP compo available, go ahead and add them.
We do have high quality recording of the OHP 2012 compo entries. Just give us some time to get them from the tapes and do some post processing :-) And yes, 2011 seems to be lost :-(
I seem to have forgotten to post my photos. There they are.
Wanna pick the best ones and add descriptions for slengpung? So far there are no buenzli pics on slengpung yet.
Sure I give you the time, don't hurry. It was just a question. Thanks and have a nice weekend
@Saga Musix: I never cared much about Slengpung, sorry. My standard response in this case is "if somebody wants to do it, they can" (as long as they don't take credit for the photos, of course :-) ).
Fair enough... I'll pick a few from this year and last year then. :)
Pix!
I can recommend turning off the infobox before adding the pictures on Slengpung :-)
I somehow overlooked that option.. oh well! Maybe I'll replace them if I'm in the mood.
On the other hand, this additional information doesn't really hurt, does it? :)
Chainsaw and everybody else: The OHP demos are now available :-)

1st place: Pouet | YouTube
2nd place: Pouet | YouTube
3rd place: Pouet | YouTube

Thanks to Psykon for the HQ capturing :-)
Styx: Oh Oh. Did you also already teach the swiss people what "Der Schwabe vergisst nicht!" means? ;)
More pics by genox have been added to slengpung!
Thanks Saga! I updated the descriptions and handles where I knew them :-)
Thanks unlock, that looks a lot better already! :)